OKR: En magisk ingrediens
I forrige innlegg skrev jeg blant annet om OKR og at dette er et målingsverktøy som blir tatt i bruk av blant annet bedrifter som ønsker å effektivt gjøre kontinuerlig fremdrift. Google, Amazon, Spotify, Netflix, Linkedin og Uber er bare noen av en rekke store og suksessfulle selskaper som har tatt i bruk OKR. Men det er ikke bare SAAS-selskaper som bruker OKR. Også Walmart, Target, The Guardian – til og med hjemmesiden til UK's regjering GOV.UK bruker det smarte målingsvektøyet.
OKR står altså for Objective Key Results og går ut på at en finner ut hva sitt Objective er, altså et «overordnet mål» og deretter hvordan en skal nå disse målene gjennom «delmålene» Key Results.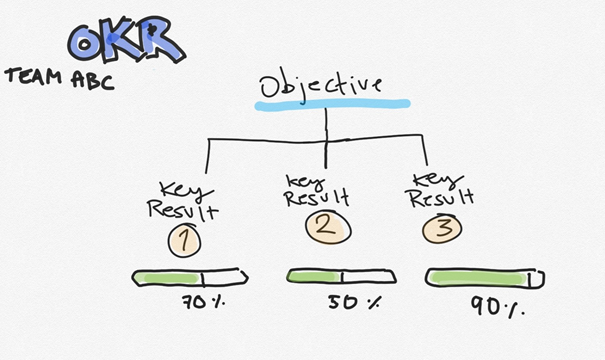 På appraisd.com kan vi lese hva en burde tenke på når man lister opp en OKR:
The typical structure of an OKR is: "I will (objective) as measured by (set of results)".
OKRs should be written in clear and simple language that everyone can understand.
Objectives should be SMART, inspirational, engaging, motivational and challenging. Each objective should be measured against between two and five key results. The objective should describe the task.
Key Results should be quantitative and measurable. The set of results is how it will be measured.
Altså kan en si at Objective er å fortelle hva en vil, mens Key Results er å legge frem hvordan en faktisk skal få dette til, gjerne over en bestemt tidsperiode. Flere studier forteller at mennesker er mindre kreative når det blir for lang/ingen tidsfrist. Vi kan oppleve at det «stopper opp» ved at det blir for mange alternativer og mangel på en viss «ramme». Dessuten blir en mindre effektiv og produktiv. De fleste av oss har nok gått inn i en svær matbutikk og bare stoppet opp i det vi skal velge produkt, fordi det "er så mye forskjellig". Sånn kan det også bli i arbeidslivet. Og det er der OKR og deadlines kommer inn i bildet. I boken «Creative conspiracy» av Leigh Thomson skriver hun blant annet om hvordan rammer, regler og klare mål øker kreativiteten i team (og individuelt). Men som vi også vet må en tenke på når en deadline skal settes, ettersom at kreativitet «under the gun» kan være ødeleggende for kreativ tenking i teamet.
"Talentfabrikken" inevo.no, har de listet opp «4 fordeler med å benytte OKR»:
De viktigste målene i bedriften kommer til overflaten
Alle i bedriften får vite hva som er viktig (95% av ansatte er usikre på bedriftens strategi, Harvard Business Review)
Du får vite hvordan alle ligger an i forhold til målene
Alle i bedriften vet hva som foregår
La oss se litt nærmere på hvordan forskjellige selskaper tar i bruk OKR…
Hjemmesiden til Regjeringen i UK
Steve Messer som er ansatt i GOV.UK, United Kingdom sin regjerings hjemmeside, skriver via medium.com hvordan de selv tar i bruk OKR.  
«An objective is a bold and qualitative goal that the company or organisation wants to achieve. For example, 'Prepare the GOV.UK platform for the scale demands of Brexit' or 'Make it easier for users to start using our product'. It's best that they're ambitious, not easy to achieve or audacious in nature; they are not sales targets».
Messer skriver videre at «Objectives shouldn't be dictatorial goals, they should be missions that people can buy in to and get behind».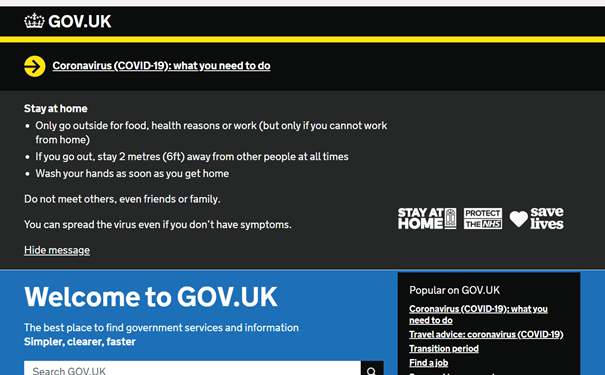 Når det kommer til GOV.UK's Key Results, skriver Messer at det kan det være alt fra bare ett eller flere Key Results. «It's best that they're specific, measurable, achievable and realistic to help a team answer the questions:
'How will we reach the objective?' and 'How will we know when we're done?'».
Messer og de andre ansatte kaller det et «mission» når de skal sette i gang en OKR. «We get together as a team and ask ourselves 'What does success look like?' This produces a set discovery and delivery goals to be reached, which usually shape our key results».
Når det kommer til møter skriver Messer at møtene er «light touch and only take 30 minutes» og at «Every fortnight a product team will meet with the GOV.UK programme team — senior management for the platform — and report on how they're progressing. It's also an opportunity to raise any risks they've come across or anything they need from the programme team».
Ved å bruke X/10 kan de ulike teamene sette opp hvor selvsikre de er på å kunne oppnå delmålene, i tillegg til hvor langt de har kommet som settes opp i prosent. 9/10 og prosent på 95% kan for eksempel vise ansatte, ledelsen og de andre teamene at de er veldig nærme å nå delmålet.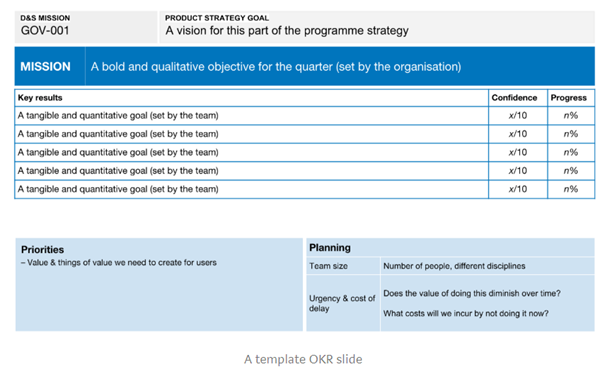 «What's great about OKRs is that they pull top-down leadership together with bottom-up knowledge workers, giving them a space to communicate and reach a shared vision. (…) Teams can understand how they're contributing to the organisation's strategy, and leadership can better set realistic short-term goals».
Netflix på OKR måling:
Nettsiden comparably.com, gjør det mulig å sammenligne og se hvordan forskjellige store selskaper gjør det i forhold til OKR. Netflix utmerker seg blant flere selskaper i deres målinger: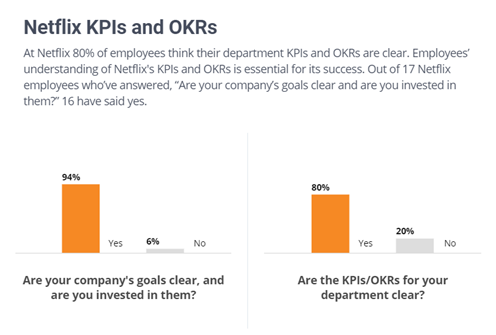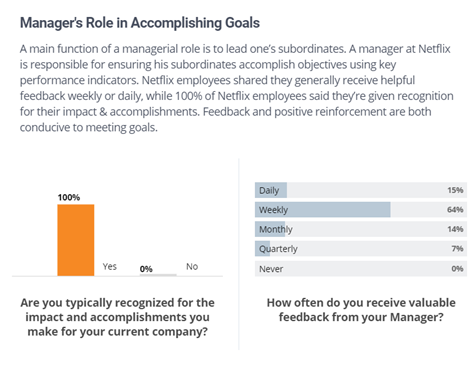 Amazon og Besoz' OKR tips:
Amazon gjør det ikke like bra på målingene som Netflix, men vi må også ta i betraktning at Amazon har over 575 000 ansatte mens Netflix har rundt 6 700 (2019).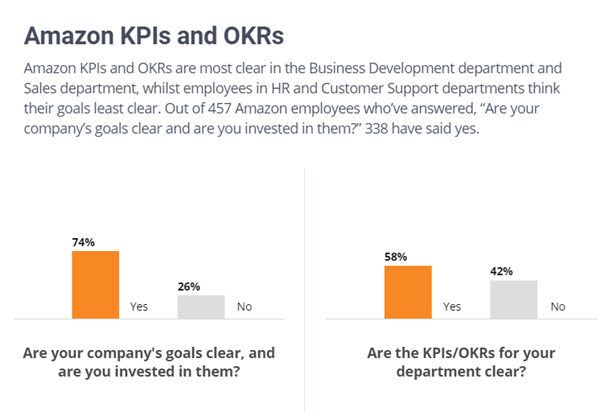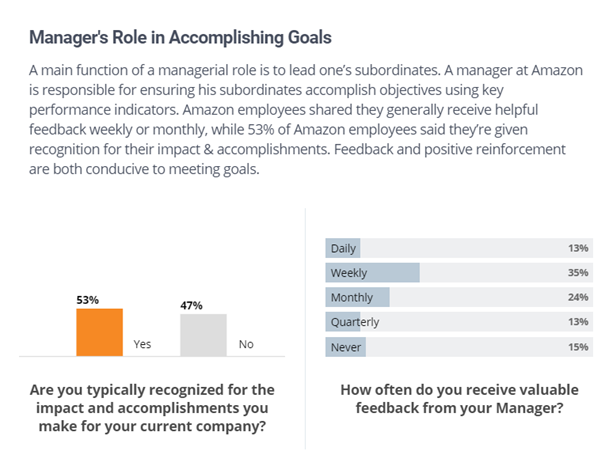 OKR-"trainer" Felipe Castro skriver på sin blogg at Jeff Besoz, Amazon's grunnlegger og CEO, gir følgende tips om OKR:
I very frequently get the question: "What's going to change in the next 10 years?" And that is a very interesting question; it's a very common one. I almost never get the question: "What's not going to change in the next 10 years?" And I submit to you that that second question is actually the more important of the two — because you can build a business strategy around the things that are stable in time. … [I]n our retail business, we know that customers want low prices, and I know that's going to be true 10 years from now. They want fast delivery; they want vast selection.
It's impossible to imagine a future 10 years from now where a customer comes up and says, "Jeff, I love Amazon; I just wish the prices were a little higher." "I love Amazon; I just wish you'd deliver a little more slowly." Impossible.
When you have something that you know is true, even over the long term, you can afford to put a lot of energy into it». (FelipeCastro.com)
Altså er tipset å fokusere på det som ikke kommer til å endre seg. For Amazon er dette lav pris, rask frakt og stort utvalg.
Amazon er blant flere store selskaper som har vokst i rekordfart på få år. Det er interessant og se at alle disse mega-selskapene har det til felles at de har tatt eller tar i bruk OKR. Det sier noe om at OKR fungerer. Ja, ikke bare virker det som det fungerer, men det kan nesten ses på som en magisk ingrediens for businessfremdrift.
.
.
.
REF:
appraisd.com/blog : a simple guide to okrs
comparably.com/companies/amazon
comparably.com/companies/netflix
Amabile, Hadley and Kramer. August 2002, Harvard Business Review
Creative conspiracy, Leigh Thompson, 2013